I just realized I didn't post last month's event – it was the two-day Iowa Challenge between Iowa's SCCA chapters. Held at the Oskaloosa Airport, it's usually a typical runway course – some straight stuff, a turnaround, and some more straight stuff. The event chairs did a great job of switching it up with some interesting crossovers and fun elements.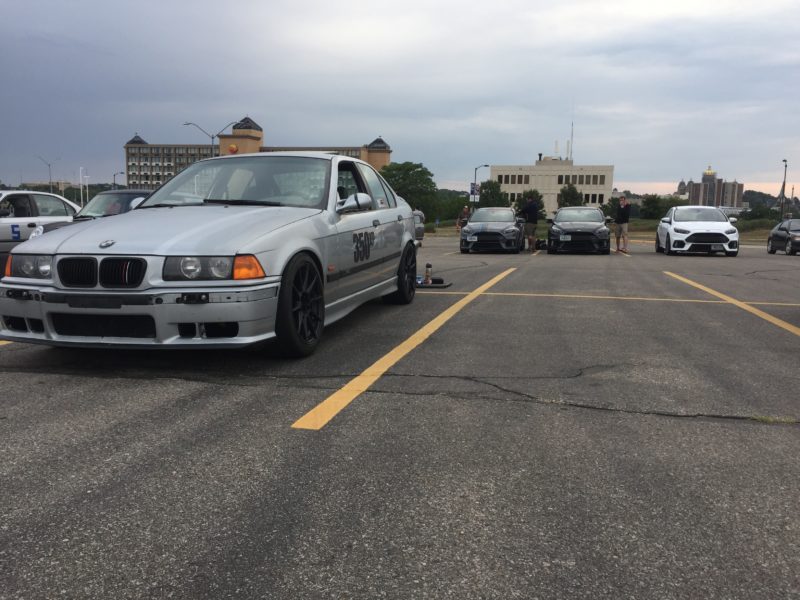 Day 1 was my day for sure. It was a very fast course, cars were often on the rev limiter in at least two places. My time was good for 17th/64, beating some drivers that I usually trail by a second or two.
Day 2 I wasn't quite on fire – the only straight section of the entire course was pointing toward the finish line at an angle.
We also had the chance to do some fun runs after day 1. I let a few different people drive my car and got a lot of compliments on how easy it was to drive, how well it gripped, and it didn't actually feel like a hacked together mess. You know, really glowing compliments.
Yesterday's event was back at the Iowa Events Center, its parking lot is on the small side but usually makes for some interesting courses. Among the interesting cars that showed up were a new Civic Type R and four Focus RSs. Temps in the 70s meant the tires took a couple of runs to warm up, but there was grip to be had and I found as much of it as I could. The course flowed well and my best time was good for 8th/80 in raw, possibly my best showing yet. Note the tires squeaking as they lost traction over every painted line through the sweepers.
Future plans: I got a poly transmission mount designed for a Mustang, but it will require completely redoing the trans crossmember. The engine mounts are poly, the diff mounts are poly, and the trans mount is 13 year old stock V6 Mustang rubber. Not sure if I'll get to that this season as I'm focusing on the '69 Cougar right now, but it's on the list.